A dynamic cultural experience with talented Irish performers, delicious Irish food stalls, exclusive Irish drinks and exceptional surprises beyond your wildest dreams!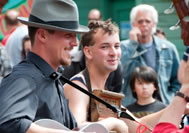 We are aiming to attract over 100,000 people over 18 days and nights.
THE BIG SHINDIG experience will include captivating live performances, famous guest appearances, audience participation, events and lots of surprises!